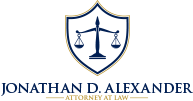 Mission Viejo Estate Planning Attorney
Law Office of Jonathan Alexander
Welcome to the Law Office of Jonathan Alexander, an Orange County Estate Planning Lawyer. Mr. Alexander has two decades of legal experience helping business owners and families in Mission Viejo, and throughout California. Mr. Alexander's passion and commitment to estate planning is unparalleled, and he truly cares about each and every one of his clients and their families.
Mission Viejo, California
Mission Viejo is located in South Orange County, California and was founded in the 1970s. This city of nearly 100,000 has seen tremendous growth in recent years and is known for its excellent school districts, safe neighborhoods and close proximity to the beach.
Why Mission Viejo Residents Should Plan Ahead
The Law Office of Jonathan Alexander is here to help you and your family protect your legacy with estate planning. Unfortunately, estate planning is something that many people put off until it's too late. Without a plan in place, your family's assets could be subject to expensive and lengthy probate court proceedings, and your children or other dependents may not receive the assets you intended for them. That's why it's important to take action now and plan for the future.
How We Can Help
At the Law Office of Jonathan Alexander, we understand the complexities of estate planning and work closely with our clients to ensure that their wishes are carried out. We can help you create a living trust, name guardians for minor children, and make sure that your assets are passed on to their intended beneficiaries. We can also assist with more complex estate planning needs, such as tax planning, asset protection, and charitable giving. We understand that you may have questions or concerns about estate planning and we are here to provide you with the answers and guidance you need. We believe in educating our clients about estate planning and providing them with the information they need to make informed decisions.
Call us Today
Don't wait any longer to protect your legacy. Call the Law Office of Jonathan Alexander today at (949) 334-7823 for a confidential consultation. We have the experience and expertise to help you develop a comprehensive estate plan that meets your needs and the needs of your family. With the Law Office of Jonathan Alexander, you can have peace of mind knowing that your legacy is secure.
Client Reviews
Get in Touch
1

Dedicated Representation

2

Virtual/Online Meetings

3

Protect What Matters Most
Fill out the contact form or call us at
(949) 334-7823
to schedule your consultation.