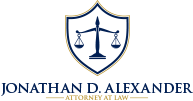 Newlywed Planning
Congratulations and Mazel Tov, you have just been married! The big day is in the rearview mirror, and you are ready to settle into married life. What does that look like? Long walks on the beach? Dinner and dancing all night? Traveling to exotic locales? Enjoy the newlywed stage, it is truly magical. But remember, with this new relationship comes new obligations. You are now responsible for another human being. You are responsible for each other. One of the most important decisions every newlywed couple must make is to put an estate plan in place.
My first recommendation is to speak with a qualified Orange County estate planning attorney. At the Law Office of Jonathan D. Alexander, we specialize in helping newlyweds create customized comprehensive estate plans.
Newly married couples should start by organizing their financial affairs and getting their estate in order.
Here is a quick checklist:
Life insurance. Get it.
If you legally change your name, make sure to notify:

Social Security Administration
Employers
Department of motor vehicles
Passport Office
Insurance Agencies
State taxing authority
Banks and financial institutions
Government benefit offices

Update beneficiary designations on your life insurance policies, 401(k)s, IRAs, annuities, or investment accounts.
Talk to your CPA about adjusting your withholdings.
Add your spouse to your health benefit plan.
Update your auto insurance policies.
Finally, put an estate plan in place or update, modify or alter your existing plan to reflect your new status.
Newlyweds should then put the foundational estate planning documents in place.
Living Trust. This is the center piece of your estate plan and will help you avoid probate (a time consuming, expensive, and very public court proceeding). If you properly transfer your assets to your Living Trust, you can skip probate, transfer your property to your loved ones privately and efficiently, and avoid unnecessary expense.
Pour-over will. This document acts as protective measure to "pour-over" assets that were not transferred to your Living Trust.
Advance Health Care Directives. This document appoints a representative (your spouse) to make health care decisions for you when you are incapacitated.
HIPAA Authorizations. This document authorizes your spouse to receive your private protected health information that is relevant to your health care.
Durable Power of Attorney. This document authorizes your spouse to manage your financial affairs when you cannot.
During the estate planning process, you will decide how to treat assets you owned prior to marriage. You may decide to commingle your assets or keep them separate. It is essential that you speak with a qualified Orange County estate planning attorney to ensure that you have properly identified and categorized your property in order that your estate plan carries out your wishes and desires.
We have a simple five step process to put your plan in place:
Design meeting. We will review your intake questionnaire, provide education about planning, explain the plan we have designed just for you, and provide our flat fee quote.
Drafting and reviewing. We will draft your plan, review it with you and make any necessary changes based upon your feedback to ensure it meets your needs.
Signing. You will sign your documents. Please make sure that you have your government issued ID. Your plan will be signed and notarized. You can sign in our offices or remotely.
Funding. Your financial accounts, real estate, and business interests will be transferred to your living trust.
If you are newly married, it is time to put your estate plan in place. At the Law Office of Jonathan D. Alexander, we understand that the estate planning process can seem overly complicated. Our team is here to explain the process in plain English and support you every step of the way. We work tirelessly to ensure that your questions are answered, that you understand your plan and that your plan meets your needs and desires.
Call now to discuss your newlywed estate planning questions with an Orange County estate planning lawyer. We offer consultations so you can learn about us, our firm and how we can help you put a comprehensive estate plan in place.
You have taken the critical first step to protect your family. Start the planning process today by calling us at (949) 334-7823.
Client Reviews
Get in Touch
1

Dedicated Representation

2

Virtual/Online Meetings

3

Protect What Matters Most
Fill out the contact form or call us at
(949) 334-7823
to schedule your consultation.