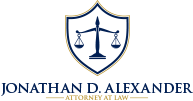 The Essential Blueprint to Estate Planning for Young Families
Visualize this. You've poured blood, sweat, and tears into building your wealth. You and your spouse have nestled comfortably into a home in the heart of Orange County, have a vibrant young family, and your financial horizon is shimmering with promise. But what happens when life throws a curveball?
Such a thought may be uncomfortable, but the reality is, life is a mixture of predictability and surprise. A comprehensive estate plan is your safeguard against such twists and turns, crafting a resilient financial future for your family and preserving your hard-earned assets.
Hello, I'm Jonathan Alexander, a seasoned attorney with a two-decade track record in estate planning. My career has been devoted to helping families, just like yours, navigate the intricate maze of estate planning. My mission? To ensure that your loved ones are well-taken care of and your wealth is protected, no matter what tomorrow brings.
Why Estate Planning?
Estate planning is often perceived as a practice reserved for the affluent or the elderly, but this is a common misconception. If you have assets, children, or simply wish to maintain control over your affairs after your passing, you need an estate plan.
Here are the benefits of estate planning:
It lays a solid financial foundation for your family
It shields your assets from unexpected creditors
It averts family disputes and confusion
It minimizes taxes
It facilitates a smooth transition of your assets
It ensures that your healthcare and personal care wishes are honored
Harnessing the Power of Revocable Living Trusts
A crucial element of any comprehensive estate plan is the Revocable Living Trust. This trust provides a private, efficient, and cost-effective way to transfer assets to your loved ones, bypassing the hassle and expense of probate.
Think of a revocable living trust as a treasure chest. You (the grantor) place your wealth into this chest and appoint a reliable person (the trustee) to manage it. The trustee holds legal title to your assets and manages them for your chosen beneficiaries.
The versatility of a revocable living trust is its strength. As its name indicates, it can be adjusted, altered, or entirely revoked during your lifetime. As your circumstances shift, your trust can adapt accordingly.
Children's Emergency Plan: A Parent's Essential
Our top priority as parents is the welfare of our children. A Children's Emergency Plan, an essential yet often overlooked component of an estate plan, ensures your children are never in the hands of Child Protective Services or in the custody of someone unsuitable.
With a Children's Emergency Plan, you can:
Appoint short-term guardians who can promptly care for your children if you are temporarily unable to do so.
Offer thorough instructions to your chosen guardians, including medical directives, educational wishes, and moral and religious guidance.
Prevent conflicts or confusion among family members and friends regarding who you wish to care for your children.
The Jonathan Alexander Edge
Creating a comprehensive estate plan is more than a mere transaction; it's a journey. It involves delicate conversations and pivotal decisions that require legal expertise and a high level of empathy, patience, and understanding.
I've guided individuals, families, and businesses through this journey, assisting them in protecting their assets, caring for their loved ones, and shielding their future.
Choosing me as your estate planning attorney means opting for meticulous, personalized service, where every detail of your estate plan is tailored to mirror your unique circumstances, values, and aspirations.
Embrace the Journey
The thought of embarking on your estate planning journey might seem intimidating, but it needn't be. With the right expertise and careful guidance, this process can be fulfilling and empowering.
I am here to support you at every step, from understanding your current situation and identifying your goals, to crafting and implementing a bespoke estate plan that fulfills your needs and those of your loved ones.
And remember, estate planning isn't a 'set-it-and-forget-it' operation. As your life evolves, so should your estate plan. Major life changes, such as the birth of a child, a marriage, a divorce, or significant financial shifts, call for a review of your estate plan. This is why I focus on building lasting relationships with my clients, offering ongoing advice and support as your life, family, and wealth grow and change.
Your life story is a tapestry woven with threads of hard work, resilience, and love for your family. It's a tale of building assets and forging dreams. Estate planning empowers you to shape the concluding chapters of this story on your terms. It guarantees that your narrative doesn't end abruptly or unexpectedly, leaving your loved ones in disarray.
I encourage you to picture the legacy you wish to leave. Imagine the tranquillity that comes with knowing that regardless of what tomorrow brings, your loved ones will be provided for, your assets will be protected, and your wishes will be respected. Call (949) 334-7823 to arrange an appointment. It's time to turn your dreams into plans and shape the future you've always imagined for your family.
Your story deserves a fulfilling ending, and together, we can craft it.
The keystone to a resilient future isn't luck or chance; it's thoughtful planning. So let's begin planning today because every story, particularly yours, deserves a fitting closure. And in this instance, your perfect ending is a resilient, protected future for you and your loved ones, achieved through comprehensive and careful estate planning.
When you step into my office, you're not just a client; you're family. Together, we'll traverse the intricate yet rewarding journey of estate planning. And at the end of it, you'll leave with more than just a comprehensive estate plan; you'll depart with peace of mind, knowing that you've done your utmost to safeguard your family's future.
Don't let uncertainty dictate the fate of your hard-earned assets and the wellbeing of your loved ones. Let's collaborate to craft a resilient and prosperous future, one where your story continues to inspire long after you're gone. After all, isn't that the legacy we all wish to leave behind?
So don't delay another day. Call (949) 334-7823 today and let's begin crafting your personalized estate plan today. Your family's resilient future awaits.
Client Reviews
Get in Touch
1

Dedicated Representation

2

Virtual/Online Meetings

3

Protect What Matters Most
Fill out the contact form or call us at
(949) 334-7823
to schedule your consultation.